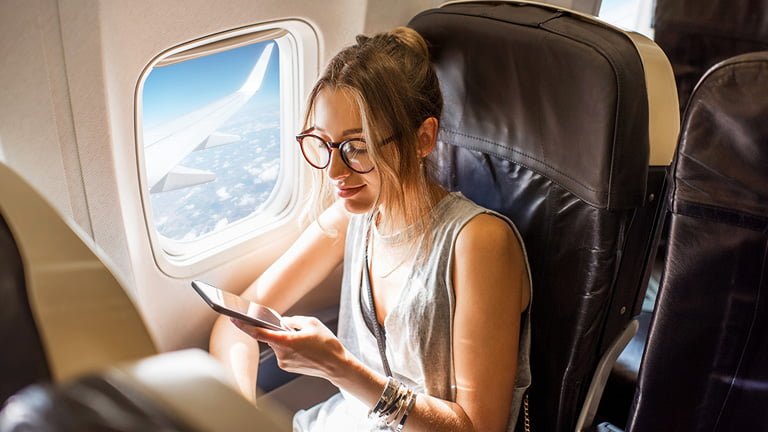 Now that almost every country has eased its COVID-19 travel restrictions, many people are planning to travel the world again. As we rely more on the internet, thanks to the increasing globalization of our world, having a smartphone while traveling internationally is essential. You will need your phone to book flights and hotels, check the weather forecast, navigate through the places you will visit, and more.
Therefore, for the best traveling experience, your phone should be one of the first items you pack into your travel bag. Apple's iPhone is one of the most popular and reliable phones in the world, which is why over 48% of Americans and over 35% of Europeans use iPhones, and even wonder about using iPhone internationally. People love iPhones because of their great cameras for photography and videography. The iPhone camera comes in handy for travelers who love to take lots of photos.
It should also be noted that iPhones were among the first companies to adopt the eSIM standards, which makes it convenient for travelers to install new SIM cards onto their phones. If you intend to travel and continue using your iPhone internationally, here are some tips you can use to get the best experience.
10 things to check before using iPhone internationally
1. Check updates and backups
Before traveling internationally, you need to ensure you update your iOS and all apps, including your browser and maps, to the latest versions. Updates ensure your device has the latest features, bug fixes, and security updates that help keep your iPhone running smoothly and protect it from potential security threats.
You should also ensure your iPhone is backed up either on a computer or iCloud. Backups are crucial for protecting the data on your iPhone. Backing up your iPhone regularly ensures that you don't lose your data if something goes wrong with your device. If your iPhone is backed up, you can easily restore your data to a new iPhone if your current one is lost, stolen, or damaged during travel.
2. Check if your iPhone is unlocked
Also, you need to ensure your iPhone is not carrier locked, as this may restrict you from using other carriers when you travel. The easiest way to know whether your iPhone is unlocked is by checking the [Settings] – [General] – [About] and swipe down.
If you can find "Network Provider Lock – No SIM restrictions", your iPhone is unlocked from the carrier and it should be able to work with any carrier.
3. Utilize your international travel plans
As a visitor to a new country, you may not know the best data plans for your iPhones. There are plenty of good and affordable plans, especially for eSIM users. You can easily get your eSIM for iPhone from online providers like eSIM Europe.
Besides getting great data plans, eSIM also makes it easy and convenient for users to switch between different carriers. That's why eSIM technology has increased competition amongst carriers, leading to better prices for consumers.
4. Learn about data roaming & how to prevent unintentional roaming charges
Auto data roaming refers to using your mobile device to access the internet or make calls when you are traveling outside of your domestic carrier's coverage area. Auto roaming can be expensive and lead to unintentional charges on your phone bill. Consider turning roaming off for your domestic carrier by going to [Settings] – [Cellular] – [Cellular Data Options] – [Data Roaming] and turning it off. You should then install a local eSIM since most of the eSIM compatible iPhone that released after iPhone XS or XR.
5. Turn off unnecessary notifications and mobile data usage to save your data
Turning off unnecessary notifications and mobile data usage on your iPhone can help you save your data and avoid unexpected data charges. To turn off data for specific apps, go to [Settings] – [Cellular], then scroll down to see the list of apps using cellular data. Turn off the data usage for any app that you don't need to use while you're on the go.
To turn off unnecessary notifications, go to [Settings] – [Notification] and turn off notifications for any app that you don't need to receive notifications from.
6. Learn how to use Facetime and iMessage with data
Facetime and iMessage are two of the most popular apps on iOS devices that allow you to communicate with your friends and family while you are away. Since Facetime and iMessage can be used by WiFi or cellular data, ensure you have a stable internet connection before using FaceTime and iMessage.
You should then open the iMessage or FaceTime app on your iPhone and enter the email or contact of the person you want to communicate with. For FaceTime, tap the video camera icon to start the call. For iMessage, type your message and tap the send button.
7. Download the necessary Apps and be familiar with WiFi-based Apps
When using iPhone internationally, it's important to download the necessary apps and be familiar with WiFi-based apps to stay connected and make the most of your travel. Some of the necessary apps may include maps, accommodation apps, ride-sharing apps, and more.
It should also be noted that iOS limits certain apps, such as iCloud, to only when you have a WiFi connection. So, you should be aware of such apps.
8. Set and learn how to use "Find My Phone feature"
The "Find My" feature is a built-in feature on iPhones that allows you to track the location of your device if it gets lost or stolen. To set up Find My, go to [Settings] – [Your Name for Apple ID] – [Find My] and make sure that the [Find My iPhone] feature is turned on.
Also, turn on [Send Last Location] to allow your iPhone to send its last location when the battery is critically low. If your iPhone is stolen, you can use [Find My] on another iOS device or iCloud.com to locate it.
9. Update Multi-Factor Authentication Steps
Multi-factor authentication (MFA) gives your iPhone an extra layer of security. So, it will require more than one form of authentication to verify your identity. To turn on MFA, click [Settings] and tap on your name. Tap [Password & Security] and then [Two-Factor Authentication]
Enter your phone number, which will be used for receiving verification codes when you sign in to your Apple ID from a new device. Verify your phone number by entering the six-digit code you receive via text message.
10. Make note of a list of emergency contacts
When traveling internationally with your iPhone, it's a good idea to make note of a list of emergency contacts in case you need help or support. It should also be noted that iOS allows you to add emergency contacts in the health app that can be contacted in case your iPhone detects that you're in danger.
To add these contacts, go to the [Health] app on your iPhone, tap on the [Medical ID] tab, and then tap [Edit] to add emergency contacts. You can add multiple contacts and include their name, relationship, phone number, and other information.
Final thoughts
Using the tips we have just shared will make your international travel much easier. Whether you're traveling for work or pleasure, these tips can help you stay connected, informed, and prepared and make your trip a success.
If you plan to travel to Europe and you have one of the newer iPhones that support eSIM, consider checking out eSIM Europe data plans. eSIM Europe has a wide range of plans that you can choose depending on your budget and the country you intend to visit.